This article is a stub.
Not all information has been covered about this subject. You can help by expanding it!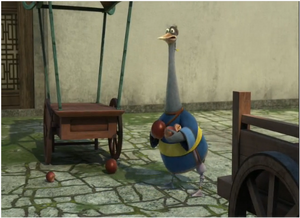 Apple Cart Duck
Physical attributes
Species
Duck
Gender
Male
Height
Weight
Eye color
Blue-green
Fur color
Skin color
Feather colors
Dark grey
Scale colors
Clothing
A blue robe with a yellow sash
Other attributes
Click to add in!
Age
Biographical information
Also known as
Unknown
Status
Living
Residence(s)
Po's Village in the Valley of Peace
Occupation
Apple vendor
Affiliation(s)
Family
Combat style
Master(s)
Student(s)
Apple Cart Duck is a minor character in the Nickelodeon television series Kung Fu Panda: Legends of Awesomeness. He lives in the Valley of Peace and makes his living by selling apples to its villagers.
Biography
Edit
Throughout the Legends of Awesomeness canonicity, Apple Cart Duck has appeared many times in the show as a sort of joke-cameo. His first appearance was in the episode "Master Ping", when Mr. Ping gave him a bowl of soup. He later appeared in the episode "Kung Fu Club where he was fighting among members of the Kung Fu Club.
Personality
Edit
Coming soon!

Relationships
Edit
The exact relationship between Apple Cart Duck and and Mr. Ping is not certain as Apple Cart duck is a minor cameo character and has not undergone intense character development. Mr. Ping was first seen with Apple Cart Duck in the episode "
Master Ping
", where Mr. Ping gave him a bowl of noodles at the
Jade Palace
and asked how he was doing. It could be inferred that they are friends.
Apple Cart Duck has only been known to wear a blue robe with a yellow belt accenting his figure. In [[Master Ping]], he wore a small blue hat. No further information has been given regarding the nature of Apple Cart Duck's Wardrobe.
Coming soon!
Coming soon!
References
Edit
Ad blocker interference detected!
Wikia is a free-to-use site that makes money from advertising. We have a modified experience for viewers using ad blockers

Wikia is not accessible if you've made further modifications. Remove the custom ad blocker rule(s) and the page will load as expected.